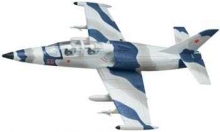 GREATPLANES GPMA6002 L-39 ALBATROS EP JET RXR RECEIVER READY
---
.
This is the radio controlled, electric powered, almost-ready-to-fly
Great Planes ElectriFly L-39 Ducted Fan Sport Scale Airplane.
Park Pilot Program Legal Aircraft
This version includes ESC and servos.

FEATURES: Construction: Lightweight, strong and resilient AeroCell closed cell
foam, AeroCell foam is easily repairable with regular CA glue,
paintable, and offers the weight advantages of foam without the
brittleness and breakage, decaled and factory painted in camouflage
paint scheme
Motor: ElectriFly Ammo 20-40-3500 In-runner Brushless (GPMG5140)
Electronic Speed Control: ElectriFly Silver Series SS-25
Servos: Three ElectriFly ES50 nano
Ducted Fan: Great Planes ElectriFly HyperFlow precisely molded for
smooth airflow
Wings: One piece wing, epoxied to fuselage during assembly
armament attaches with magnets to bottom of wing
for realistic scale looks (must be removed before flying)
Top Hatch (canopy): AeroCell foam attaches with magnets, detailed
canopy for static display
Radio Compartment: Accessible under hatch, plenty of room for a wide
range of batteries
Warranty: Great Planes Model Manufacturing Company guarantees this
kit free from defects in both materials and workmanship at
the date of purchase.

INCLUDES: Great Planes ElectriFly L-39 Ducted Fan Airplane with Ammo
in-runner motor (GPMG5140), HyperFlow Ducted Fan, detachable
armament, drop tanks, push rods, display stand, instruction manual
three ES50 nano servos and SS-25 ESC

REQUIRES: Radio: 3-channel with micro receiver
LiPo Battery: 910mAh - 1250mAh 11.1V LiPo
Battery Charger: LiPo compatible (GPMM3010)
Two Futaba 150mm slim wire extensions (FUTM4506)
Futaba 6" dual extension (FUTM4130)
Misc. Items: Building and Field Equipment

SPECS: Wingspan: 25" (635mm)
Wing Area: 141 sq in (9.1 sq dm)
Weight: 17.5 - 18.5oz (500 - 520g)
Wing Loading: 17.9 - 18.9 oz/sq ft (55 - 58 g/sq dm)
Length: 31" (780mm)
Center of Gravity: 1-15/16" (49mm) Back from the wing's leading edge
on both sides of the fuselage
Control Throws High Rate Low Rate
Elevator, Up and Down: 5/16" (8mm) 1/8" (3.2mm)
Aileron, Up and Down: 3/16" (4.8mm) 3/32" (2.4mm)

Comments: The drop tanks and armament are for display purposes only and must
be removed before flight.

Also available in ARF version without ESC or servos, GPMA1869.