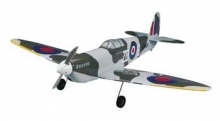 GREATPLANES GPMA 1478 SPITFIRE .25 EP ARF
Envergadura: 990 mm
Largo: 895 mm
Peso: 1,13-1,6 kg
Motor (no incluido): .25 cu in (4.0 cc) 2-stroke
Radio (no incluido) 4 Canales 5 servos mini

---
.

This is the radio controlled, glow or electric powered, almost-ready-to-fly,
Great Planes Spitfire 1/12 scale airplane.
For Intermediate to Advanced Modeler/Fliers.
AMA Event 750 Combat Class 2610 Legal.

FEATURES: Construction: All balsa and plywood
Controls: Throttle, ailerons, elevator, rudder
Wings: One-piece with plywood wing joiner
Covering: Factory applied iron-on film, color scheme is Light Gray
with Dark Green military camouflage
Spinner: 2.25" (57.15mm) diameter, White in color
Cowling: Pre-painted, fiberglass
Canopy: Clear, single
Aileron Control: Dual servo
Landing Gear: Prebent wire 0.12" (3mm) diameter, optional usage
Wheels: Two 2" (50.8mm)
Building Time: Ready to fly in only 7-10 hours.
Engine Mount: Composite, two-piece adjustable
Four 3mm flat washers are included. These washers should be
used when attaching a glow engine to the nylon engine mount halves.
Warranty Period: Great Planes guarantees this kit free from defects
in both material and workmanship at the date of purchase.

INCLUDES: One Great Planes Spitfire 1/12 scale sport airplane with pre-built
and covered wings, fuselage and tail assemblies, pushrods,
4oz (120cc) fuel tank, wood servo trays and wing joiners, spinner
hardware package, landing gear, two wheels, mounting components
for electric/glow setup and photo illustrated instructions.

REQUIRES: Glow Engine: .25 cu in (4.0 cc) 2-stroke (OSMG0525) OR
Brushless Motor: Outrunner type, (GPMG4675)
Electronic Speed Control: At least 45A, Brushless-compatible
(GPMM1840) if using Brushless motor
Muffler: Standard muffler supplied with engine
Propeller: 9x6-compatible with glow or electric power (APCQ0906)
Radio: 4-Channel (FUTJ36**)
Servos: 4-Micro servos with at least 34 oz-in torque, 5 needed if
installing glow engine
Servo Extensions: Two 9" (230mm) for aileron servos
Misc. Items: Glow plug, ¼" foam rubber padding, medium fuel tubing,
fuel filter, building and field equipment.

SPECS: Wingspan: 39" (990mm)
Wing Area: 272sq in (17.5sq dm)
Flying Weight: 40 - 48oz (1130 - 1360g)
Wing Loading: 21 - 25 oz/sq ft (65 - 78 g/sq dm)
Length: 35.5" (895mm)
Center of Gravity: 2-3/8" (60mm) Back from the wing's leading edge at
the fuselage
Control Throws- High Rate Low Rate
Elevator: Up & Down 3/8" (9.5mm) ¼" (6mm)
Rudder: Up & Down ¾" (19mm) ½" (13mm)
Ailerons: Up & Down 3/16" (5mm) 1/8" (3mm)

If a replacement fuel tank is needed, order the Sullivan 4oz
tank (SULQ1737), or the DuBro 4oz tank (DUBQ0204).
Some minor trimming and modifications may be required.